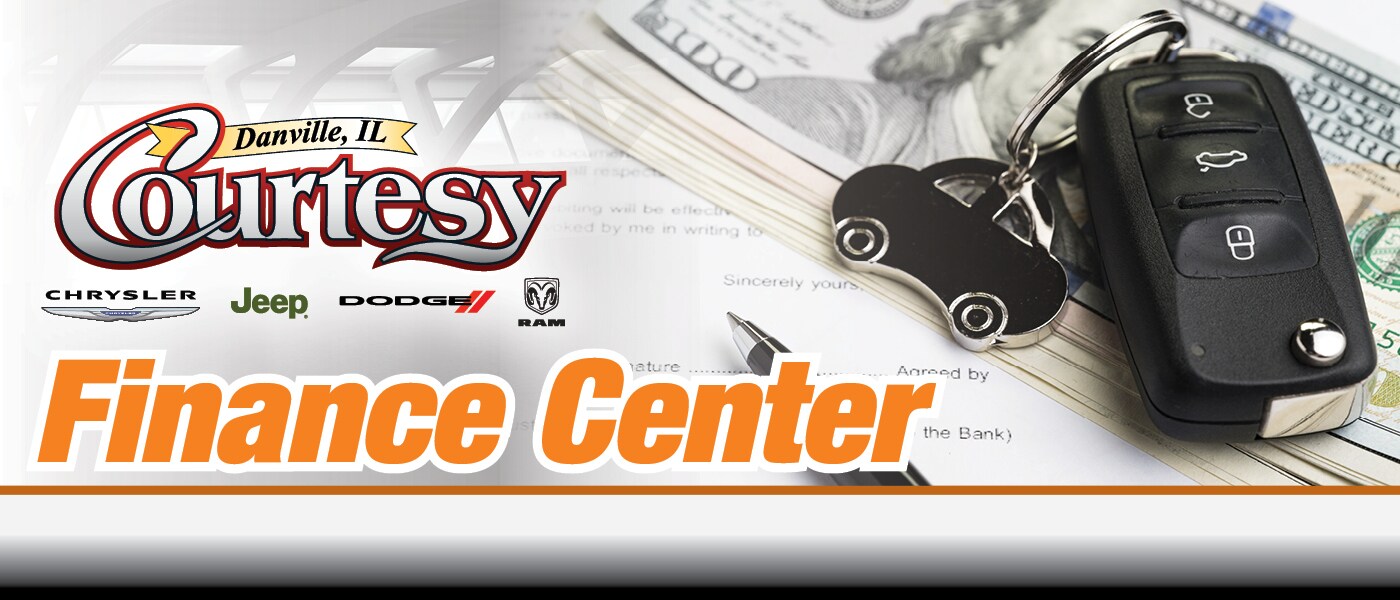 Welcome to the finance center at Courtesy Chrysler Dodge Jeep Ram in Danville, IL! We are so glad you've come to us for your new car purchase experience. Here at Courtesy CDJR, we understand that financing or leasing a new vehicle can be stressful, but our experienced team is here to assist you every step of the way.
If questions or concerns arise, please feel free to contact a specialist by calling our Danville, IL, dealership at (217) 703-4288 or send us a message online.
---

Chrysler, Dodge, Jeep, & Ram Finance & Lease Options
For some of the most competitive Chrysler, Dodge, Jeep, and Ram auto financing and leasing options, Courtesy CDJR in Danville, IL, has got your back! Our dealership proudly works with all types of credit situations to help find the best finance and lease options possible, so there's no need to worry if your credit is less than perfect. Our finance and lease specialists work diligently to secure you with impressive finance and lease deals to help you save big whether it be on a new Chrysler, Dodge, Jeep, or Ram vehicle.

Financing vs. Leasing
When it comes to your new Chrysler, Dodge, Jeep, or Ram vehicle, have you decided whether financing or leasing is the best option for you? Courtesy CDJR can help you decide with all of our great finance and lease options. There are a handful of pros and cons that come with both financing and leasing, so it's important to consider each of these elements in full. For an in-depth look into what you can expect from each option, view our financing vs. leasing guide below.

Why Finance or Lease with Courtesy CDJR?
Our experienced team of finance and lease specialists are committed to providing exceptional customer service to all who walk through our doors. We provide a wide array of finance and leasing options, and our specialists will work closely with your budget to craft a unique payment plan you are comfortable with.

Contact Our Finance & Lease Specialists
If you have any questions, concerns, or simply need more information regarding financing, leasing, car loans, or anything of this nature, please don't hesitate to contact a Courtesy CDJR specialist. Their contact information can be found below.

Tools to Get You Started
Jump start the financing or leasing process today by taking advantage of one of our helpful tools. These resources include:
Payment Calculator
Get an idea of how much your monthly auto loan payment will cost when you use the payment calculator tool.
Calculate Payments
Kelley Blue Book Trade-In
Curious as to how much your trade-in vehicle is worth? Utilize the value my trade tool to get an estimate provided by Kelley Blue Book.
What is your car worth?
Finance Application
Apply for a car loan today by filling out our quick and easy online finance application.
Apply for Finance
CarFinder
Enter specific vehicle criteria with the CarFinder tool and our product experts will find the exact vehicle you're looking for.
CarFinder
---

What is the Vermilion County Tax Rate for Car Purchases?
Courtesy CDJR is located in Vermilion County, IL. You may be curious as to what the sales tax is in Vermilion, as this can affect the total price of your vehicle purchase or lease. Vermilion County, IL, has a combined sales tax rate of 6.5%. The individual sales tax rate of Vermilion County, IL, is 0.25%.